Curcumin (Curcuma longa) is the source of the spice Turmeric, and is used in curries and other spicy dishes from India, Asia, and the Middle East. Curcumin is what gives the Curry its characteristic bright yellow color and strong taste.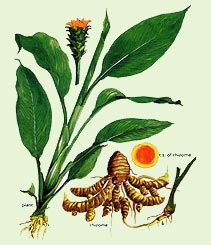 Like many herbal remedies, people first used Curcumin as a food and later discovered that it also had impressive medicinal qualities. Over the centuries, this spice has been used as a pain relieving, anti-inflammatory agent to relieve pain and inflammation in the skin and muscles. It has served as a treatment for jaundice, menstrual difficulties, hematuria, hemorrhage, colic, and flatulence. In modern times, research has focused on Curcumin's antioxidant, anti-inflammatory, anticarcinogenic, and antimicrobial properties, and on its use in cardiovascular disease, gastrointestinal disorders, and as a treatment for the liver.
To learn more about this essential herb, please stay tuned or click here.